The basic task of the project is to develop a new prototype of adiabatic cooling panels with the aim of significantly increasing air conditioning and cooling equipment with a capacity of 100 – 300 kW
efficiency. The development of the prototype and the technological solution, which will be incorporated into cooling equipment, will significantly increase their productivity, energy efficiency and sustainability, as well as promote the use of a more environmentally friendly solution and significantly reduce the amount of CO2 emissions generated within air cooling processes.
Work continues on the project activity – Experimental development (EI), which includes the following sub-activities: prototype development; making a test chamber; conducting tests under real-time simulation conditions.
Work has begun on the preparation of a scientific publication on the results of the simulation of test chamber elements.
PROTOTYPE DEVELOPMENT
During the reporting period, the work on the development of the prototype continues, the evaluation of individual components of the prototype based on the results of CFD simulation is carried out.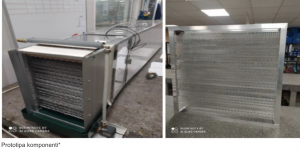 FABRICATION OF THE TEST CHAMBER
During the reporting period, work on the production of the test chamber continues. Conducted testing of test chamber elements under simulation conditions.
As a result of the simulation, the technical parameters of the components of the adiabatic cooling panel and the air handling tunnel (test chamber) were determined to ensure obtaining the result of the full-value test scenario in the test procedures.
Technical parameters of the adiabatic cooling panel and air handling tunnel (test chamber) components
* information provided only for visualization, without designations, etc., as one of the results of the project is a patent application